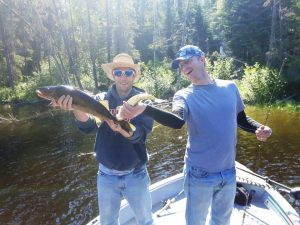 Northern Pike 
49″ is the mark to beat this year.  Bill hooked into this monster early in the year on a Mepps Spinner.  The past week or so, Northern Pike can be found in the cabbage patches and lots of little ones along shore if the kids need to stay busy with action.  The 40's are down deeper and can be caught on dropoffs and points.  Swimbaits and deep trolling plugs.  Gold, blue, silver and perch colours have been doing great.  Last week Caden hooked a 40 1/2″ beast!
Smallmouth Bass
Bass have are active and on the bright sunny days we have been finding them right up on top of the rock piles.  Top water fun with Zara Spooks, ripplin Red Fins and poppers.  Take your time and cover the area from different angles.  A few 20″ fish and way too many over 18 to count.
Perch 
Have been biting steady since early July.  A little chunk of crawler on a tiny jig or slip bobber.  Watch them come up you can be choosy on which ones you let take it.  Colour does matter.
Lake Trout
The Trout were up shallow well into late June.  Today they can be caught trolling down 30′ with a crankbait.  Or jig them up with a white tube.  30″ was the largest this past week!
Walleye
Summer bite is happening.  Lots of fish being caught and sometimes tough to find eaters.  Minnows, leeches, & crawlers are working well.  Along weed edges and deeper off rock humps, points & drop offs.  Spinners, jigs, and crankbaits are catching.  I was schooled the other day with a lindy rig and a minnow.  Too stubborn to change and try something different can cost you fish.
The Woman River has low water conditions right now.  Portage lakes have been fishing really well and the mayfly hatch has past in late June.
It's a great time to be on the water!