Woman River Camp is proud to be a Pet Friendly fishing camp.
We all like coming to lake and enjoying the great outdoors. Pets included! Woman River Camp is glad to allow your pet dog to come along on your fishing or hunting trip.
Please follow our simple rules and enjoy a great stay with your pet.
Pets are not allowed on furniture or the beds
Your dog must be crated when left alone in the cabin
Attend to your dog and pick up droppings immediately
We are not responsible for your pet
Barking dogs are not tolerated
Owners are responsible for all damages
Doggie Trip rate is $75 per week.
Meet Timber, he is our camp dog.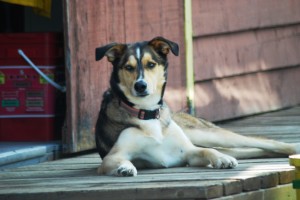 We have a great dog named Timber. He is a cross between Husky, German Shepard and some wolf. He loves people and even though he just turned 10, he still has lots of energy.
Timber has a few rules of his own we ask our guests to help him follow.
Do not feed Timber any human food. Timber has a bad stomach and the results aren't pretty! If you feel the need to feed him, bring him dog treats like Milkbone and only treat him down by the dock or near the lodge.
Please do not ask Timber to do anything/ give him a command.  He has been trained to listen to our commands and when others try to give him a command and it isn't enforced, he stops listening to us. This can result in serious injury to Timber if he doesn't listen and goes after a wild animal.
Timber is not allowed in any cabins. Under no circumstances do we want Timber going into your cabin
Enjoy Timber's company, pet him and say hello. He sure likes his head scratched!
Thanks for your cooperation.
Paul & Debbie