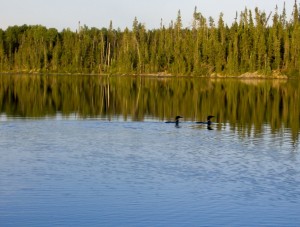 Our closest drive-to portage is located about 4 Km (2.5 mi) south of camp, right alongside South Bay Rd. Unload your gear at the boat ramp and park your vehicle on the opposite side of the road.
The lake has over 24.6 km of shoreline and its area covers more than 291.6ha (720.1 acres). The lake produces trophy Walleye and Northern Pike as well as it puts out the numbers. It is a beautiful lake with a very picturesque shoreline. The Woman River flows in at the north end through a couple sets of rapids and then drains out over a 30ft waterfall at the southern end of the lake. With the right water conditions and if a beaver hasn't plugged the culvert, you can travel under the road and fish the large bay on the other side. The lake has plenty of bays, weeds, points and drop-offs for all types of fishing techniques.
We have a shorelunch site set up right near the rapids coming into the lake. Woman River Camp has one 16ft boat on the lake with swivel seats. It will fish 4 in a pinch.
Possession limits are in accordance to your Ontario fishing license and Woman River Camp's Conservation Policy – catch and release of all Walleye over 18" and all Northern Pike over 27"
Map Of Snakeweed Lake