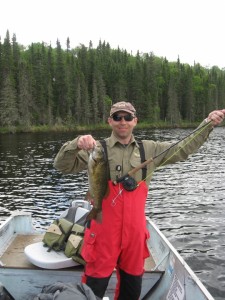 A beautiful little lake shaped like a donut with crystal clear water and lots of structure. Access to the trail is up Spot creek off Big Bear Lake. Travel time is about 30 minutes (19 Km / 12 mi.) from camp to the trail head. A short hike through the old forest will take the average person about 15minutes (500m – 1/4mi).
The lake contains Walleye, Northern Pike and Smallmouth Bass. When your arm is tired of reeling in the Walleye, cast structure for Smallmouth Bass or troll for the Trophy Northern Pike. Go to baits are 1/4oz jigs in white, pink, and orange. Try throwing a couple surface lures like buzz baits for the Smallmouth Bass. Topwater action is a blast! The Blue Fox #3 silver blade inline spinner is another great Bass lure. Trophy Northern Pike will eat just about anything you throw! Stick with natural colours. I like white to go along with the large sucker population they feed on.
We have two boats for groups to use. The 16′ boat will fish 3 and maybe 4 with limited casting. The 14' boat is large enough for three fishermen. This lake is great for all ages and one of my favourites in the spring and fall for Trophy Pike!
Fishing on Spot Lake is CATCH & RELEASE ONLY, for all species.
Map Of Spot Lake, Northwestern Ontario, Canada