Is it time to renew your passport?
Approximately 10 years ago, the United States made it mandatory for travelers to present a passport when entering the United States.  Today, the United States
Government is being overloaded with renewal applications.  Estimated time to renew a passport is approaching six months!
Don't wait until the week before your trip to locate your passport and then realize it has expired!  Renew it ahead of time.  Get started on renewing or applying for a passport.
But wait, don't freak out that you won't be able to go on your annual adventure to Woman River Camp, Canada.
Using a passport is by far the most convenient piece of identification used to enter Canada but not the only one when traveling by land or sea.
"If you are a U.S. citizen, ensure you carry proof of citizenship such as a passport, birth certificate, a certificate of citizenship or naturalization, or a Certificate of Indian Status along with photo identification. If you are a U.S. permanent resident, ensure you carry proof of your status such as a U.S. Permanent Resident Card."
U.S. Citizens, returning to the United States

by land or sea

, a person must provide evidence of both U.S. Citizenship and identity.
When traveling by air from anywhere in the world, you must have a valid passport to enter Canada!
If you never plan to travel outside North America, and you are a U.S. citizen, then maybe a Passport Card may suit your needs.  It is the same size as a credit card and is valid for 5-10 years depending on your age.
Traveling with Minors (Children)
Border services officers watch for missing children, and may ask detailed questions about any minors traveling with you.
We recommend that parents who share custody of their children carry copies of their legal custody documents, such as custody rights. If you share custody and the other parent is not traveling with you, or if you are traveling with minors for whom you are not the parent or legal guardian, we recommend you carry a consent letter to provide authorization for you to take them on a trip and enter Canada.
A consent letter must include the custodial parents' or legal guardians' full name, address and telephone number. Some travelers choose to have the consent letter notarized, to further support its authenticity, especially if they are undertaking a significant trip and want to avoid any delay.
When traveling with a group of vehicles, parents or guardians should arrive at the border in the same vehicle as their children or any minors they are accompanying.
Travel with pets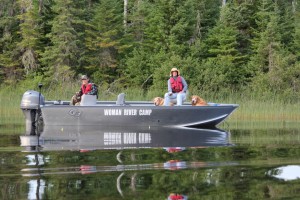 The Canadian Food Inspection Agency (CFIA) establishes import requirements for all animals and animal products entering Canada.
The CFIA provides information about importing domestic pets on its Web site.
Canadians traveling to the United States require either a valid Passport or a Nexus Card.  Canadian passports expire after 5 years.
For more information pertaining to crossing the border between Canada and the United States.  Visit Canada Border Services Agency and U.S. Customs and Border Protection