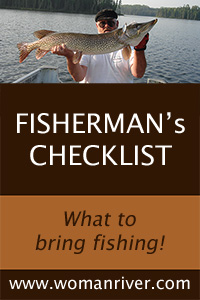 The Fisherman's Checklist – created by Woman River Camp!
After providing fishing trips to thousands of guests with all ranges of angling experience (and all ranges of luck), we've been able to create the ultimate Fisherman's Checklist of what you need to bring fishing!
The Fisherman's Checklist is actually Two-Lists-In-One:
The Absolute Essentials
The Nice-To-Have-Along Items
Gain Free Instant Access to this great time-saving list. Download and print it out, and check off the items as you pack for your fishing trip! Make sure you never forget the essentials ever again!